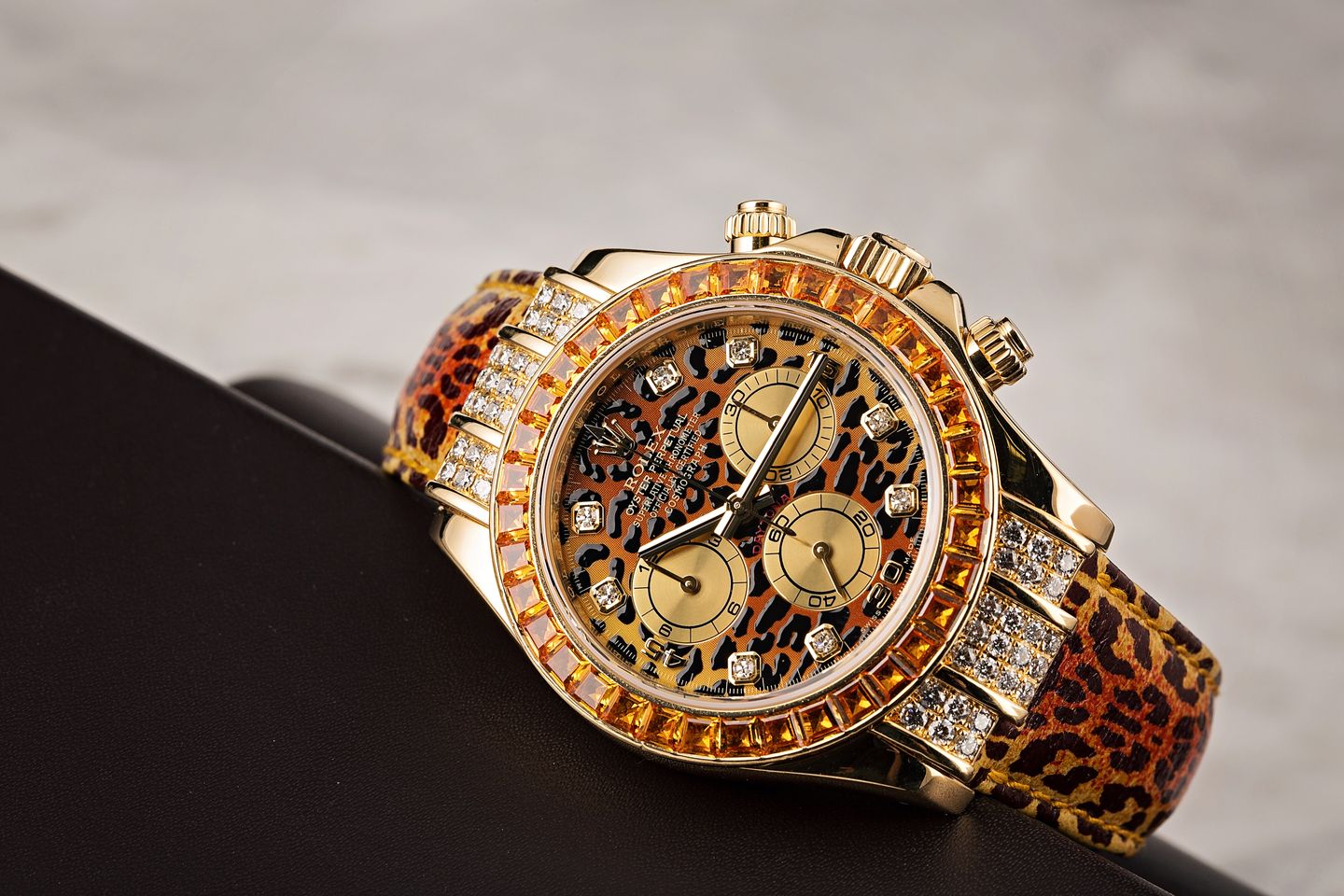 Four of Rolex's Craziest Off-Catalogue Pieces From Over The Years
Rolex are perhaps one of the most conservative and consistent watchmakers we have in the industry. Keeping movements throughout generations of watches for 30+ years at a time and slowly evolving their aesthetics at a snail's pace, Rolex are a brand famed for not taking unnecessary risks or pushing the boat too far.
Cast your mind back to 2022, and we were all excited at the simple fact that Rolex had introduced a left-handed watch with a new bezel colour combination. Fast forward to this year's Watches and Wonders, and we couldn't believe that Rolex would introduce an Oyster Perpetual with a handful of different colours on its dial, like the "Celebration" OP or the "Puzzle" Day-Date with its even more colourful dial and emoji-filled date window and positive affirmation-filled day window. Now, while the "Puzzle" Day-Date definitely was "out there" in terms of its aesthetics and execution, it's not the first time Rolex has created watches that broke from their typical design DNA.
However, these watches are typically "off-catalogue" pieces and are offered only to VVIP clients who have a close relationship with Rolex as a type of limited production offering. With a handful of off-catalogue pieces launched every year, we've decided to take a look back at a handful of our favourites.
Rolex 'Rainbow' Daytona ref. 116598RBOW and ref. 116599RBOW
Kicking off our list has to be one or two of Rolex's most infamous off-catalogue pieces, the 'Rainbow' Daytona. While it certainly isn't the first time diamonds donned the Daytona, which was in the early 1980s with the ref. 6269 and 6290, the ref. 116598RBOW and 116599RBOW were launched in tandem at Baselworld in 2012 in yellow gold and white gold, respectively, to a rather impressed watch-collecting public. Fitted with a tachymeter-negating gem-set bezel with emeralds whose colour spans the entire colour spectrum along with a gem-set dial and a diamond-encrusted case on some variants, these two references embody the idea of luxury and exclusivity in the most vivid manner possible. 
With only a handful of examples produced every year, these two timepieces have become icons in their own right, with collectors who are typically used to getting what they want placed on lengthy waiting lists, and that's if they are lucky. With market values far exceeding the retail price of either variant and since discontinued in 2022 after ten years in production, it has become an infamous piece of Rolex's modern history as one of the most sought-after and best-documented off-catalogue pieces from the Genevan Giant in a long time. 
Rolex GMT-Master II ref. 126755SARU
Next up, we have one of the most exuberant and luxurious GMT-Master II models ever produced, the ref. 126755SARU. While the GMT-Master II has quickly become the most sought-after Rolex sports model on the market besides the Daytona, thanks to its iconic colourful bezel combinations and useful practicality, the ref. 126755SARU takes it to a whole other level.
Constructed of Rolex's proprietary 18kt Everose gold and featuring a factory-set sapphire, diamond and ruby Pepsi-style bezel and diamond-set lugs, the ref. 126755SARU is not for the faint of heart, nor someone who wants an understated watch that blends in. Offered with either the GMT-Master II's standard black dial or a diamond-set pave dial and the option of an Oyster bracelet with diamond-set centre links for those particularly esteemed VIPs, the ref. 126755SARU brings a level of exuberance to the GMT-Master II collection that is seldom seen.
Still as functional as any other GMT-Master II, the ref. 126755SARU variant comes with the model's full 100m water resistance and full triple timezone GMT function thanks to its bi-colour bezel. However, it would be tricky to figure out the third timezone without numerals. Released in 2019, this is a special order offering only for Rolex VIPs that is still being produced and wowing those who get to see it in the metal.
Rolex 'Leopard' Daytona ref. 116598SACO
With how iconic and desirable the Daytona has become over the last 60 years, it would be difficult to make this list with just one Daytona variant. With tens and maybe even hundreds of incredible off-catalogue variants to choose from, we have gone for perhaps the most distinctive and visually unique, the Daytona 'Leopard' ref. 116598SACO. While retaining the same reference number as the yellow gold 'Rainbow' Daytona that we mentioned before, this is a completely different animal. Made of 18kt yellow gold and offered on a leopard print leather strap, it features a very orange aesthetic.
Boasting a gem-set bezel, it features 36 cognac-coloured sapphires along its bezel and diamond-set endlinks that add some splendour to this incredible timepiece. However, those diamonds and sapphires aren't its most distinctive feature: its diamond-set leopard print dial is. Launched in 2004 and discontinued in 2019, this is one gem that got a much longer run than most other Rolex off-catalogue offerings but is perhaps one of the most desirable.
Rolex Day-Date ref. 228398TRU
Of course, no off-catalogue Rolex list would be complete without a Day-Date reference, and believe us, there are a lot to choose from. While there are some incredible vintage and neo-vintage off-catalogue offerings to choose from, we have decided to go for a modern example, the Rolex Day-Date ref. 228398TRU. Made of 18kt yellow gold, it is a 40mm Day-Date that amplifies the luxury, opulence and exclusivity already contained within the Day-Date collection through some stunning gem-settings. 
Offered with a diamond-set pave dial that is completely encircled by a red ruby-set bezel and features Roman numerals that are also set with red rubies, the Day-Date ref. 228398TRU's strong use of red makes it incredibly unique and one of the most opulent modern Day-Dates that Rolex has offered in a long time, and so it completes our list.