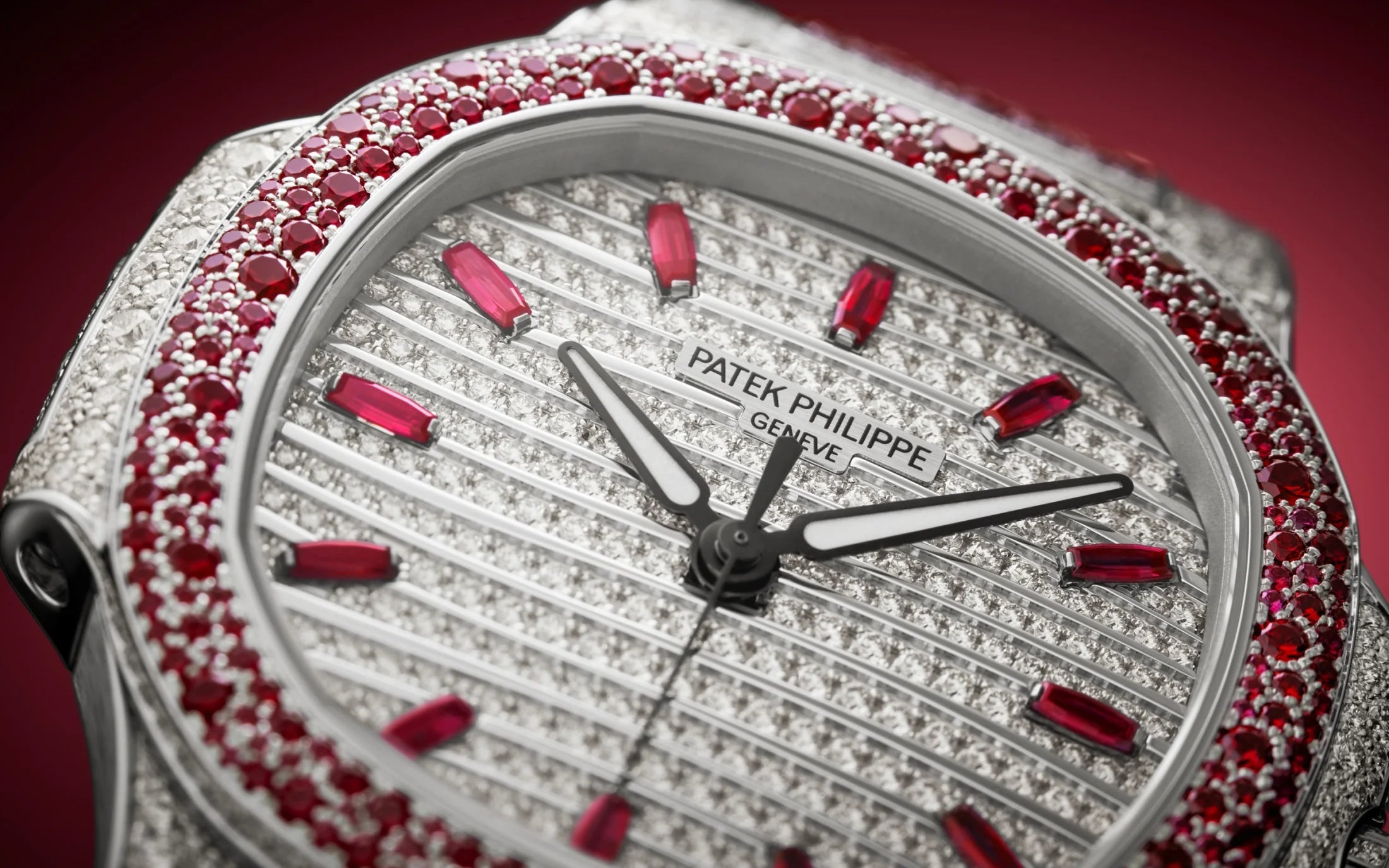 Patek Philippe's Dazzling Novelties: A Glimpse into the Future of Haute Joaillerie
In a mesmerizing display of innovation, elegance and sheer opulence, Patek Philippe has unveiled its latest collection of novelties for 2023, right in time for Christmas. Introducing a new era of sophistication and style to two of its iconic collections, Patek has expanded upon its Aquanaut and Ladies Nautilus collections in a testament to the brand's commitment to combining haute horlogerie with haute joaillerie and pushing the boundaries of their design language in a manner that we seldom see from the Genevan Giants. 
A Symphony of Color with the Aquanaut Luce Minute Repeater ref. 5260/355R and ref. 5260/1455R 
Breaking completely new ground, Patek have introduced the first-ever minute repeater in the Aquanaut collection. Designed with the modern casual chic aesthetic in mind, the Aquanaut Luce Minute Repeater ref. 5269/355R is a captivating masterpiece adorned with 52 multicoloured baguette-cut sapphires, 112 baguette-cut diamonds, and 160 brilliant-cut diamonds. The invisible setting technique brings a double row of diamonds and multicoloured sapphires to life on the bezel, creating a mesmerizing play of colour and light.
The dial of this self-winding beauty features even more invisible-set baguette-cut diamonds at its centre and, a snow-set hour ring adorned with brilliant-cut diamonds and 12 multicoloured sapphire hour markers that reflect the rainbow gradient on the bezel. The watch comes with three ultra-resistant composite straps in matte beige, matte white, and red, each fitted with a rose gold patented fold-over clasp set with baguette-cut diamonds. While somewhat controversial as it introduces Patek's most prestigious complication to their supposed entry-level collection, this is one watch we can't see having any trouble finding its way onto collectors' wrists. 
In addition to the Aquanaut Luce Minute Repeater ref. 5260/355R, Patek have also released a braceleted version, the Aquanaut Luce Minute Repeater ref. 5260/1455R, which swaps the diamond-set lugs of its rubber-strapped sibling for a completely rainbow-set case and bracelet that is inarguably as opulent as Patek could have gone with this latest version of the Aquanaut. 
Nautilus Haute Joaillerie: Redefining Elegance
Patek Philippe has also continued the elevation of their iconic Ladies Nautilus line with three new Haute Joaillerie Ladies Nautilus models, each a celebration of exquisite craftsmanship and design, that put their 2022 acquisition of jewellery design and gem-setting experts Salanitro to very good use. Furthermore, they have also launched two more Ladies Nautilus models, each with stunning purple dials and far fewer diamonds than the other three variants for those who want something more traditional and understated but still with a bit of flair. 
Some Sophisticated Sapphire with the ref. 7118/1451G 
The Ladies Nautilus watch takes on a new persona in a white gold Haute Joaillerie version. Set with 1,500 brilliant-cut diamonds and 876 blue sapphires, the virtuoso snow-setting technique graces the case, bezel, and bracelet. The white gold dial, with a wave pattern typical of the collection, is adorned with rows of diamonds and hour markers set with blue sapphires, creating a harmonious blend of luxury and sportiness.
Radiant in Rubies with the ref. 7118/1452G and an Emerald Extravaganza with the 7118/1453G 
Building upon the same foundation as its sapphire sibling, Patek have also launched two more gem-set Ladies Nautilus models that swap the blue sapphires on their sibling for either 876 red rubies or 876 green emeralds, the ref. 7118/1452G and ref. 7118/1453G, respectively. All boasting a transparent sapphire case-back that unveils their self-winding cal. 26-330 S movement, each of these three timepieces are a true marvel of horological engineering as much as they are a marvel in gem-setting and artisanal craftsmanship.
Nautilus Models: A Touch of Purple
Quartz-powered and a lot more understated than their sapphire, ruby and emerald-set cousins, these two variants inject their colour through their striking purple dials.
Original and Refined, the Ladies Nautilus ref. 7010R
The 32mm 18kt rose gold case and diamond-set bezel of this Ladies Nautilus shines with alternating polished and satin finishes. The dial, adorned with a wave pattern and a captivating purple lacquer, adds a striking burst of colour to the timepiece and is complemented by a strap in ultra-resistant composite material. The addition of a rose gold Nautilus fold-over clasp and 46 brilliant-cut diamonds on the bezel add the perfect finishing touches. 
Timeless Sophistication with the Ladies Nautilus ref. 7010/1R
Featuring a quartz movement and the exact same 32mm rose gold construction as the ref. 7010R but with offered on an 18kt rose gold bracelet instead of a strap, this Ladies Nautilus model stands out as the more luxurious of the two. Boasting the same applied Arabic numerals and rose gold hands as the ref. 7010/R, it boasts excellent legibility while its row of 46 brilliant-cut diamonds along its bezel add a vivid sparkle of glamour. Offered as the cherry on top, the iconic bracelet is also equipped with Patek Philippe's patented fold-over clasp and a new lockable adjustment system for on-the-fly adjustments. While all of the other pieces launched are quoted as being "Price on request," these two purple-dialled quartz Ladies Nautilus models are offered at €40,280 and €57,110 for the strapped and bracelet version, respectively. 
Our Takeaway
In this unveiling of novelties, Patek Philippe once again proves its mastery in blending horological precision with the artistry of haute joaillerie – something that Patek's acquisition of Salanitro has undoubtedly improved. These timepieces not only tell the time but also narrate stories of elegance, innovation, and a commitment to pushing the boundaries of watchmaking craftsmanship. As we embrace the future of luxury timepieces, Patek Philippe remains at the forefront, continuously redefining what it means to wear a true work of art on your wrist, and this is likely going to be the beginning of Patek's expansion into wild gem-set pieces as they seek to make use of their acquisition of Salanitro. While the decision to introduce the minute repeater to the Aquanaut has proven to be controversial with collectors, there is no doubt that over time it will prove to be something that collectors grow to love.
For more information be sure to check out Patek Philippe's website here.