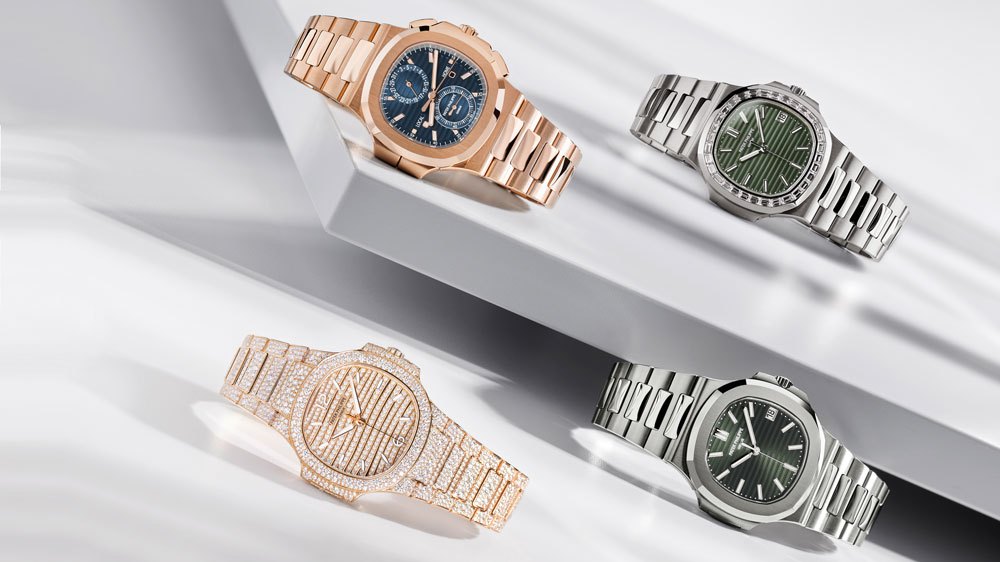 The Four Patek Philippe Nautilus 2021 Novelties

Of all the watches in the world, the Patek Philippe Nautilus has to exist amongst the most desirable and challenging to buy. Amongst its iconic collection, the blue dial Nautilus ref. 5711/1A-010 was perhaps the most coveted, with its popularity exceeding that of every other modern watch imaginable. So, with such a strong product, what would you do as Mr. Patek Philippe? Would you make more so you can sell them? Well, that's now what Patek Philippe did. Instead, they discontinued it. Not one to leave without a bang, though; they did release a new ref. 5711, and some other Nautilus models that we'll explore below, so let's get into it. 

Patek Philippe Nautilus ref. 5711/1A-014


While Patek did introduce some new olive-green dials to their Twenty~4 Automatic collection earlier in the year, it has made its way to the Nautilus collection as the final farewell model for the ref. 5711/1A. As mentioned, the stainless steel ref. 5711/1A is on its way out, and this olive green variant will be produced until the end of 2021. As always, we can expect this to be the most sought-after watch of the year. Essentially a limited edition, this will bow out the iconic ref. 5711 and pave the way for something new. What will that be? We're not sure, but it's got big boots to fill.
The olive green horizontally-embossed dial has a gorgeous sunburst finish and comes in the same iconic satin-brushed and polished stainless steel porthole-inspired case attached to the Nautilus' legendary integrated bracelet that has become so emblematic of the Nautilus collection as a whole. Priced at $34,893, this watch is essentially going to be grey market-only, with market prices expected to exceed $200,000, and with just a few months of production, that does seem pretty likely. Either way, this is a stunning piece that we hope to see on one of our watch stands as soon as possible.

Patek Philippe Nautilus Ref. 5711/1300A-001


In a somewhat unorthodox move from Patek, they have given the olive-green dial Nautilus ref. 5711 the diamond treatment with a diamond-set bezel. Featuring 32 flawless Top Wesselton diamonds weighing in at a total of 3.6 carats, this is one of the rare occasions that Patek has given a stainless steel model some diamonds. Cut into a unique, slightly trapezoidal shape; they fit into the octagonal bezel with rounded corners perfectly to enhance the beautiful green dial within their boundary to stunning acclaim.

While the steel bezel variant is relatively 'affordable' (assuming you can actually buy it at retail), this iced-out variant is priced at a whopping $94,624. While this will decrease demand, supply will be more limited too, so we can expect secondary market prices to also hover around the $200,000 mark, and in reality, exceed $300,000. Inevitably though, we'll find out soon enough as these pieces make their way out of the factory and onto wrists. 

Nautilus Travel Time Chronograph Ref. 5990/1R-001


Perhaps the most well-equipped Nautilus that there is, the ref. 5990 isn't being discontinued as far as we know, but it was still given a gorgeous new variant, the ref. 5990/1R/001. Made of 18kt rose gold and featuring an incredible blue sunburst dial. Keeping the Nautilus dial's iconic horizontal embossed details, this ref. 5990 has to be one of the best-looking Nautilus releases in a very long time. 

Powered by great cal. CH 28-520 C FUS movement, it features a 1-hour chronograph, a pointer date subdial, a 2nd hour hand, and day/night apertures in one of the most aesthetically pleasing and symmetrical dials on the market. Priced at $106,452, these will be instant waiting-list material, just like every other full-size Nautilus that Patek still sells. 

Nautilus Haute Joaillerie Ref. 7118/1450R-001


Completing Patek's Watches and Wonders 2021 batch of novelties is their only distinctively female offering of the bunch. Constructed of 18kt rose gold, the ref. 7118/1450R features diamonds throughout its entire construction in what has to be the most blinged-out Patek released in a long time. Featuring 2,553 brilliant-cut internally flawless Top Wesselton diamonds weighing in at an impressive 12.69 carats, this watch is utterly incredible looking. 

Powered by the tremendous automatic cal. 324 S and clocking in with a 35.2mm diameter, this watch is stunning in just about every way possible. Well balanced, nicely sized, and mechanically capable, there are few downsides to this piece, except its incredible $366,667 asking price. That is quite a lot of dough, but if you've got that much to spend, you're getting an amazing timepiece that you probably won't see on many other people.

Conclusion
This incredible batch of novelties leaves us wondering what Patek will release next and what the new Nautilus will be like. Rumoured as the ref. 6711, our hopes are high that it will be just as incredible as the ref. 5711 has been. Like that, when one door closes, another opens, and for the Nautilus, Patek have waved goodbye to one of their most legendary references in the best way possible.