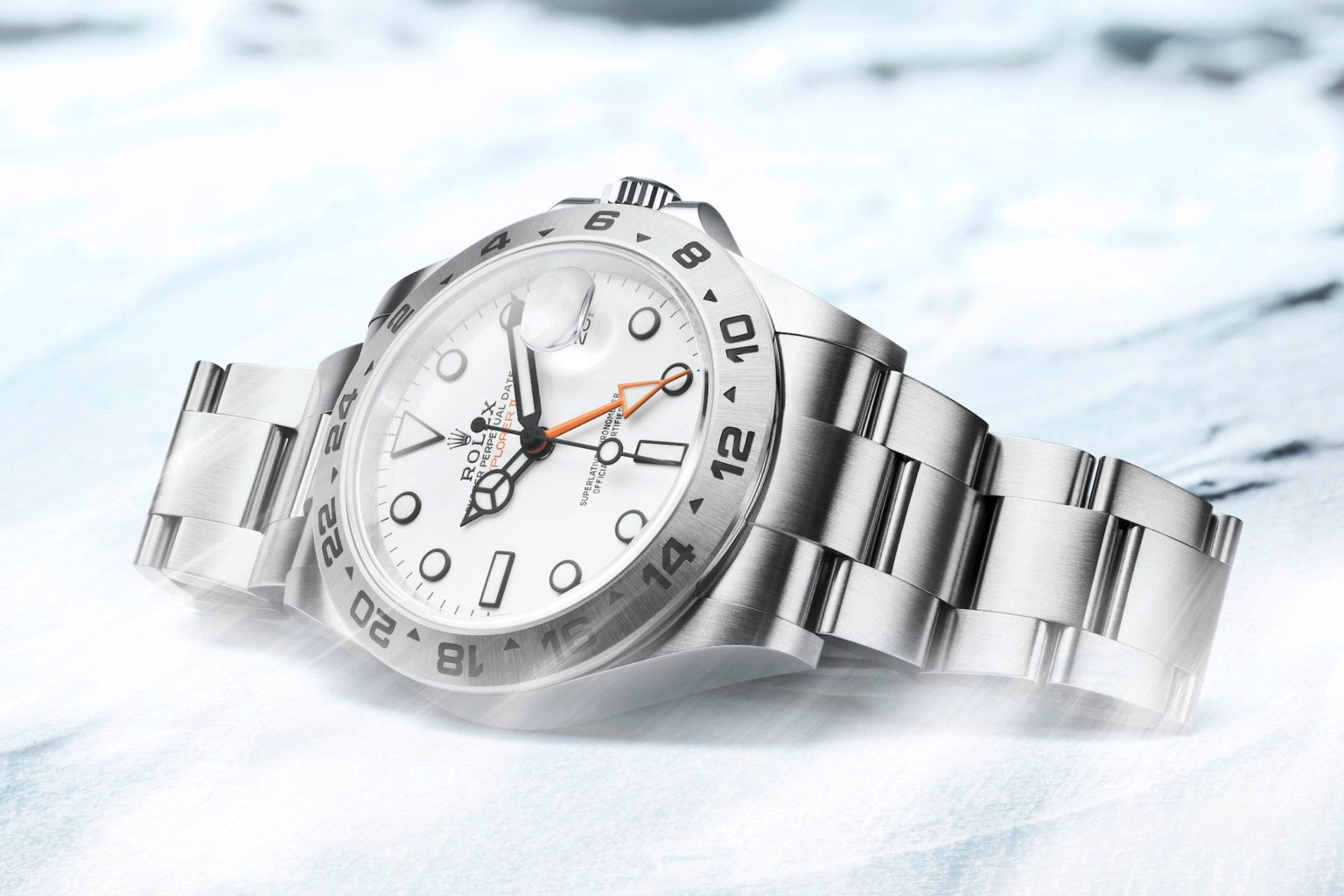 An exploration of the Rolex Novelties for 2021
Introduction
The long-awaited Rolex novelties for 2021 are finally here, and Christmas has come early. Just seven months after Rolex's 2020 novelties, we're already dissecting and exploring (pun intended) what Rolex have brought to the table for 2021. With the hype from last year's releasing still yet to die down, these releases have relit the first under most Rolex fans and will indeed send thousands of people to their AD's en masse to try to buy whatever they can get their hands on. With a few leaks breaking out yesterday, we've known about some of the novelties for about 24 hours, but we've still got our fair share of surprises, so let's dive deep into the Rolex cave and explore what we've been given.
The 50th Anniversary Explorer II ref. 226570
With the Explorer II's 50th anniversary falling this year, our hopes were set on a redesigned Explorer II featuring a new fixed-Cerachrom bezel (like the Daytona), a green GMT hour hand, and green script, a new movement, and maybe a smaller 40mm variant if we were lucky. But we got barely any of that, as the new Explorer II ref. 226570 is visually identical to the Explorer II ref. 216570 that was just discontinued. Featuring Rolex's cal. 3285 movement, the new Explorer II packs a power reserve of 70 hours, which seems to be Rolex's baseline now, no matter the watch or collection. With a new super bright lume and a slightly updated case design in the form of thinner and more elegant lugs, we can't help shake the feeling that Rolex have let us down with the lack of updates. Granted, the Explorer II is stunning; we had our hopes set on some significant updates.
The Return of the 36mm Explorer I
By far the biggest surprise this year, Rolex have released a pair of 36mm Explorers. Long asked for by vintage lovers, it seemed an impossibility given Rolex's recent moves up the size ladder. Discontinuing the 39mm Explorer I, this move eliminates the 39mm case design from Rolex's entire offering, leaving a potential model to move into the void left behind. Available in either stainless steel or bi-metal Rolesor, these two models are visually linked to 1953's original Explorer I, at least in their 36mm size. While the Rolesor variant is very left field, the stainless steel version will undoubtedly delight many vintage Rolex fans. Powered by the new cal. 3230 movement, this new 36mm Explorer ref. 124270 combines heritage-inspired aesthetics with the modern engineering excellence that we have come to expect from Rolex.
New Daytona and Datejust Dials
Moving past the relatively significant updates to the Explorer line, Rolex have also given the Datejust and Daytona collections some new dials to continue 2020's streak of facelifts. Beginning with the Daytona, Rolex have re-introduced the coveted meteorite dial to the collection. Available on the rose gold, yellow gold, and white gold Daytonas, these will undoubtedly become some of the most sought-after and hyped-up watches from this year's novelties. As always, expect some crazy waiting lists and insane secondary market premiums that will make your eyes water.
Furthermore, Rolex have also released two new dials on the Datejust. Starting with their "Palm motif" dial, these feature palms scattered throughout in various shades of green across the dial. Playing to green's popularity in the market at the minute, these dials are inspired by tropical forests and are rather unorthodox given Rolex's conservative styling. Alongside these "Palm Motif" dials, Rolex have also launched a new golden dial on the Rolesor Datejust with a stunning brick pattern throughout. We can't imagine how amazing these dials look in person, so we're very excited to see them in the metal!
New Old Bracelets
Not finished with the surprises this year, Rolex have re-introduced the Oyster bracelet to their infamously hard-to-buy GMT-Master II collection. While the Batman ref. 116170BLNR was originally fit to an oyster bracelet from its 2013 release to its discontinuation in 2019, its reintroduction that very same year saw it on a jubilee bracelet. Furthermore, when the Pepsi GMT-Master II was rereleased as a white gold model, it was on an oyster bracelet, with its stainless steel variant released in 2019 on a jubilee. From this, it looked like Rolex were using jubilee bracelets for stainless steel GMT-Master II's and Oyster bracelets for precious metal variants. Now though, Rolex have changed that and re-introduced the Oyster bracelet to both variants, the Pepsi and Batman, no longer using it as a means to differentiate between metals.
Additionally, Rolex have given the Sky-Dweller collection some jubilee bracelet variants while still keeping the oyster bracelet available as an option. While you would be lucky to get either, Rolex usually discontinues one bracelet option for a model when they introduce the other, so to have both Oyster and Jubilee is a nice change of pace.
Diamonds are a girl's best friend
.
Closing off this year's releases, Rolex have also launched two new variants of the Lady Datejust that come littered in diamonds. Offered in a relatively svelte 28mm case size, these two models are available in either solid 18kt white or 18kt yellow gold. Fitted on the ever-iconic presidential bracelet, with diamonds covering every millimeter of space on their dials, cases, bracelets, and bezels, these certainly don't pull any punches. Using Roman numerals for the hour markers, these timepieces seem pretty legible, even though pave diamond dials aren't usually associated with this clear.
Final Conclusions
Completing another year of crazy Rolex hype, some of these releases certainly hit the mark, while some completely miss. For a start, the new meteorite dials on the Daytona are incredible, and the 36mm Explorer is an intelligent move recognising just how iconic their previous design was. Still, the lack of visual updates to the Explorer II collection has upset many hopeful fans. Don't get us wrong, we love the Explorer II's iconic aesthetic, but Rolex could have done something that would set it apart from its predecessor. It was supposed to be the Explorer II's 50th anniversary, yet it feels like Rolex thought it was the Explorer I's instead. 
Personal preferences aside, though, we cannot wait to get our hands on some of these watches. Rolex makes many incredible timepieces, and these latest novelties will surely exceed everyone's expectations in the flesh. In particular, the new "Palm Motif" dials promise to be very intriguing, so we'll keep our eyes out for those at our AD, but realistically it'll be a challenge to find any of these new pieces on shelves – we all know what the situation is like!