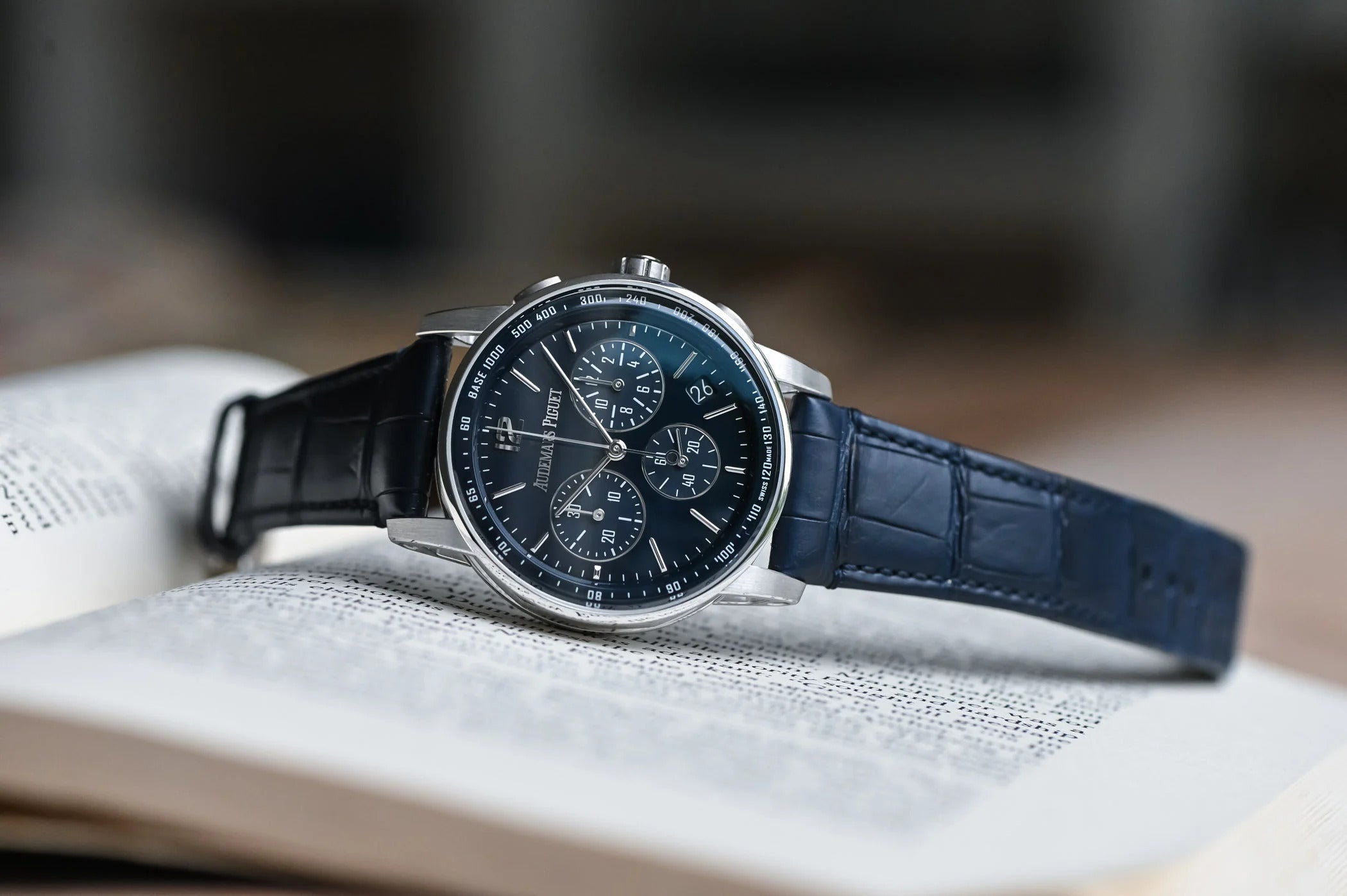 The Audemars Piguet Code 11.59: A Journey of Evolution and Redemption
Introduction 
Since its unveiling in 2019, the Audemars Piguet Code 11.59 collection has experienced a remarkable journey of evolution, overcoming initial negative criticism to emerge as a highly respected and sought-after timepiece. This article explores the timeline of the Code 11.59's transformation, highlighting its initial reception, subsequent design enhancements, and the pivotal moments that have reshaped its perception within the watch collecting community.
The Unveiling and Initial Backlash
In January 2019, Audemars Piguet unveiled the Code 11.59 collection at the Salon International de la Haute Horlogerie (SIHH). The launch, however, was met with mixed reactions, as critics and collectors expressed reservations about its design departure from the iconic Royal Oak collection. It's unique case shape and unconventional dial layout sparked controversy and scepticism among the watch community and most importantly, AP's collectors, with particular criticism focusing on its dial.
Responding to Feedback: Enhancements and Innovations 
Acknowledging the initial negative reception, Audemars Piguet proactively addressed the concerns and set out on a path of continuous improvement. The brand worked tirelessly to refine the Code 11.59 collection, drawing upon feedback they were being given by their customers, industry media and watch enthusiasts alike. By investing in enhanced craftsmanship and design elements, Audemars Piguet demonstrated their commitment to evolving the collection. 
Design Evolution: Iterations and Refinements
Audemars Piguet embraced a philosophy of constant evolution, continuously refining the design elements of the Code 11.59 collection. Subsequent iterations introduced captivating dial treatments, intricate textures, unique color combinations and even new material pairings such as ceramics and precious metals. These design enhancements breathed new life into the collection, captivating collectors with their artistry and attention to detail.
The Timeline of Redemption
2019: The initial launch of the Code 11.59 collection received mixed reviews, with criticism focused on the case shape and dial layout.
2020: Audemars Piguet introduced new variations, expanding the collection's appeal, accessibility and evolving the overarching design. Limited edition variants like the Grande Sonnerie Carillon Supersonnerie were also added to show how the collection could be used to demonstrate AP's technical prowess.
2021: Ceramic mid-cases were introduced, showcasing refined case profiles. Furthermore, captivating dial treatments, and harmonious color schemes were created such as the variety of smoked dials that AP launched in September.
2023: Six new references have been added, of which four of them contain all-steel cases for the very first time in the collection's history, and the other two sandwich ceramic mid-cases with steel. In addition, these models feature new dial designs and other minor updates.
Present: As a result, the Code 11.59 collection has transformed from a controversial release to a highly respected line that has won over many enthusiasts through its evolving design and continuous improvements.
Rebuilding Reputation: Global Recognition 
The transformative journey of the Code 11.59 collection has not gone unnoticed. Over time, the watch collecting community, AP's collectors and industry experts have come to appreciate Audemars Piguet's dedication to what was originally a complete flop and adhere to their mission of craftsmanship, which has ultimately powered the collection's evolution. The Code 11.59 has finally gained the respect it deserves for standing tall in AP's catalogue of iconic models and is now recognized for its unique aesthetics, technical prowess, and impressive evolution over the years. In essence, much like how AP stuck by the Royal Oak and Royal Oak Offshore, both of which were labelled as failures when they were launched, the brand has once again proven their commitment to pushing boundaries and sticking to their guns when they know they have something good on their hands. 
Some of our Favourite References
Across the plethora of Code 11.59 references that have been launched since its debut, it would be hard to pick a favourite. Sure, it's easy to pick ones we don't like, such as the very first reference with its plain white dial and awkward numerals, but a few have taken our fancy in particular here at The Watch Stand.


To begin, the first Code 11.59 Grande Sonnerie Carillon Supersonnerie was special. Launched in 2020 as a limited edition of just 5 pieces, it has since grown into a collection with a handful of references, but the initial group of 5 with their individually unique blue and gold paillonné dials were the beginning of the new Code 11.59 as it has since grown into and become.
Secondly, the new stainless steel time-only variant with the Bleu Nuit, Nuage 50 dial is a cut above the rest. With its incredible blue dial, taken from the Royal Oak, boasting an intricate concentric guilloche pattern, a revised layout with its date aperture moved from 4:30 to 3:00, and thicker more substantial applied indices, this is a Code 11.59 that we can all get behind and appreciate as perhaps the perfect example of how to take criticism and use it to inspire change. While it might not be perfect yet, the Code 11.59 has clearly come a long way and who would we be to fail to recognise that?
Conclusion 
Ultimately, the Audemars Piguet Code 11.59 collection has undergone a remarkable journey from its initial controversial release to becoming a highly regarded line within the horological world. Through a process of continuous improvement and innovation, Audemars Piguet has successfully addressed the early criticisms and won over enthusiasts with its ever-evolving design. By actively responding to feedback and incorporating it into their design philosophy, Audemars Piguet has demonstrated their commitment to both their craft and their audience.