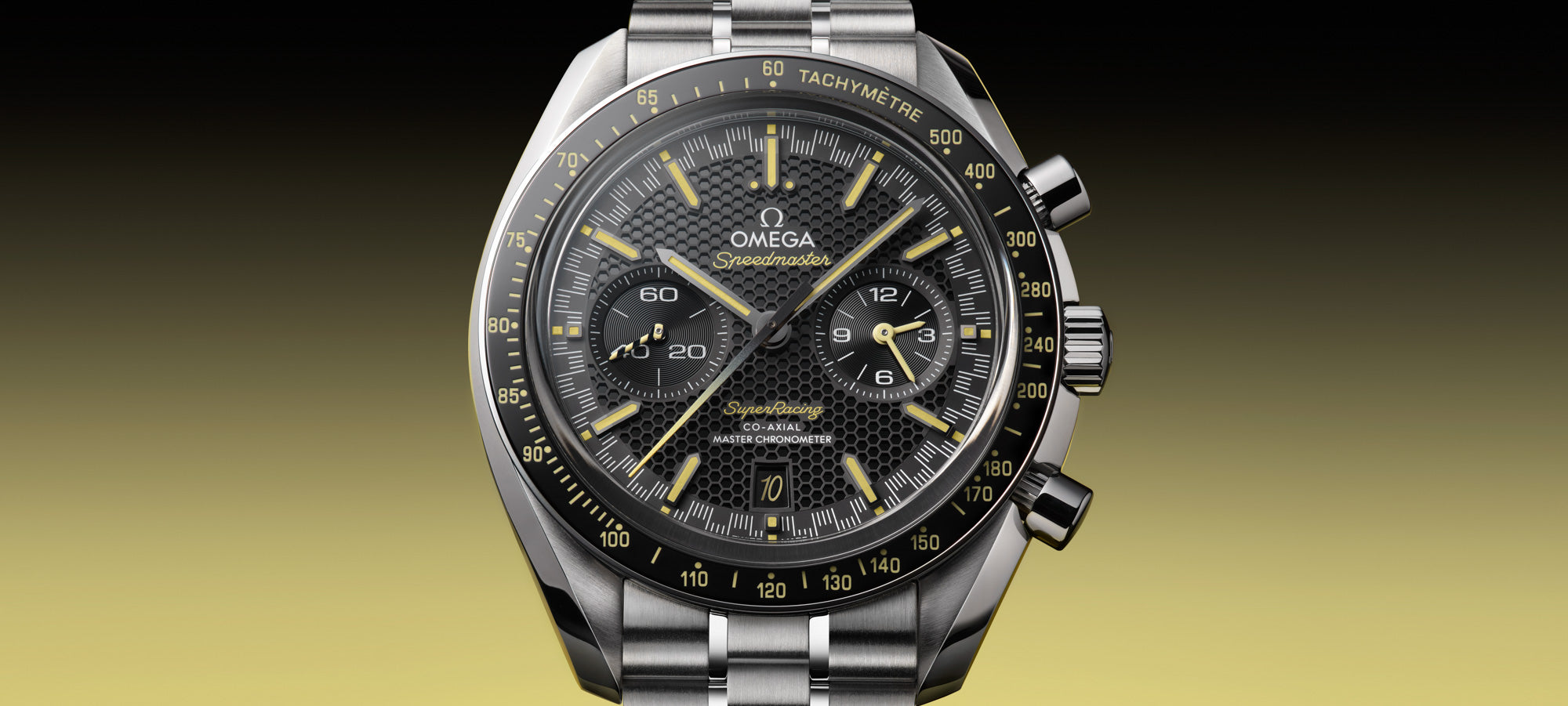 Omega's Latest Speedmaster; the Speedmaster Super Racing
Omega and the Speedmaster
Within the world of watchmaking, there are very few watches that genuinely do not require an introduction. Amongst them are watches like the Patek Philippe Nautilus, the Rolex Submariner and, of course, the Omega Speedmaster. Famed as the watch that went to the Moon on the wrists of Buzz Aldrin, Neil Armstrong and their colleagues, the Omega Speedmaster has earned its place within the pantheon of greats.
However, unsurprisingly, the Speedmaster wasn't designed to go to space. Launched in 1957, the idea of going to the Moon wasn't exactly at the forefront of any watchmaker's mind. No, instead, the Speedmaster, as its name suggests, was built for speed, with its intended use in the cockpit of racing cars. Indeed, much like almost every other chronograph of its era, the Speedmaster's inspiration was the automotive industry. Keen to rekindle that aspect of the Speedmaster's heritage, Omega have just launched one of their most impressive Speedmaster variants ever, the Speedmaster Super Racing, which is quite a piece of kit.
Omega and METAS
Ever since 2015, all of Omega's mechanical timepieces have gone through a gruelling 10-day METAS certification process that would guarantee a maximum 5-second deviation per day in the form of a zero to plus five seconds. While this is accurate, it wasn't as precise as Rolex's Superlative Chronometer certification, which comes in at an incredibly accurate +/- 2 seconds per day. However, now Omega have blown even that out of the water with their new Speedmaster Super Racing. Accurate within +2 seconds per day, this new level of accuracy is unlike anything we have seen before from a mechanical timepiece, and how have Omega achieved this? Their new Spirate System.
The New Spirate System
Like most things in watchmaking, Omega's new Spirate System is a complex piece of kit. However, put simply, it is a patented silicon balance spring with a fine-tuning device in the balance bridge that allows a watchmaker to make super-fine adjustments as accurately as 0.01 of a second by altering the stiffness of the hairspring. This new system can be interacted with using a unique tool that can change the stiffness of the hairspring while the watch is still running as a sort of on-the-fly regulating. 
Not only that, but it can be done inside Omega's boutiques without the need to send the watch off for an expensive and lengthy service, thus reducing the service interval and making the new Speedmaster Super Racing a rather enjoyable watch to own. On display behind a sapphire crystal exhibition caseback, this new cal. 9920 movement is something to behold, and Omega certainly know it.
The Rest of the Watch
While 0 to +2 seconds per day is an incredible feat, the new Speedmaster Super Racing's aesthetic design is not to be overlooked. Indeed, it is a stunning timepiece that embraces the Speedmaster's racing heritage and continues the Speedmaster Racing's design DNA. Measuring in at 44.25mm, like previous variants from the Speedmaster Racing collection, the Super Racing is made of steel while boasting a ceramic bezel and a litany of clues to its inspiration. 
Featuring a honeycomb-texture dial, a reference to an antimagnetic watch in the Omega museum that withstood 160,000 Gauss, alternating seconds and minutes graduations in its chapter ring that recall other Speedmaster models, a black to yellow gradient central chronograph seconds hand with yellow lume throughout and an italicised font for the '10' on the date wheel at 6 o'clock to reference the 10th anniversary of the 15,000 Gauss-resistant Omega Aqua-Terra, the Super Racing is filled with details that will undoubtedly delight the army of Speedmaster fans that are going to want to get their hands on this timepiece.
The Impact
It's not often we see a brand take such a large step away from their competition like Omega just has. While it might only be 2 seconds more accurate than the Daytona's +/- 2 seconds per day-rated cal. 4130 movement, those 2 seconds represent a massive difference that will not be easy for Omega's competitors to make up. In addition to this impressive competitive edge, Omega have designed the Super Racing as attractively as possible with its bumblebee black and yellow design and interesting references to Omega's previous technical achievements.  
Indeed, it won't be easy for Rolex, Breitling and everyone else to respond to the Super Racing, but nonetheless, we cannot wait to see how Omega's competitors respond. 2023 might just be the year we see brands truly begin an arms race of epic proportions as they race to make their watches as accurate as physically possible within the confines of mechanical engineering and horology.
Check out Omega's own website
here
 to read more about the €12,800 Omega Speedmaster Super Racing ref. 329.30.44.51.01.003.