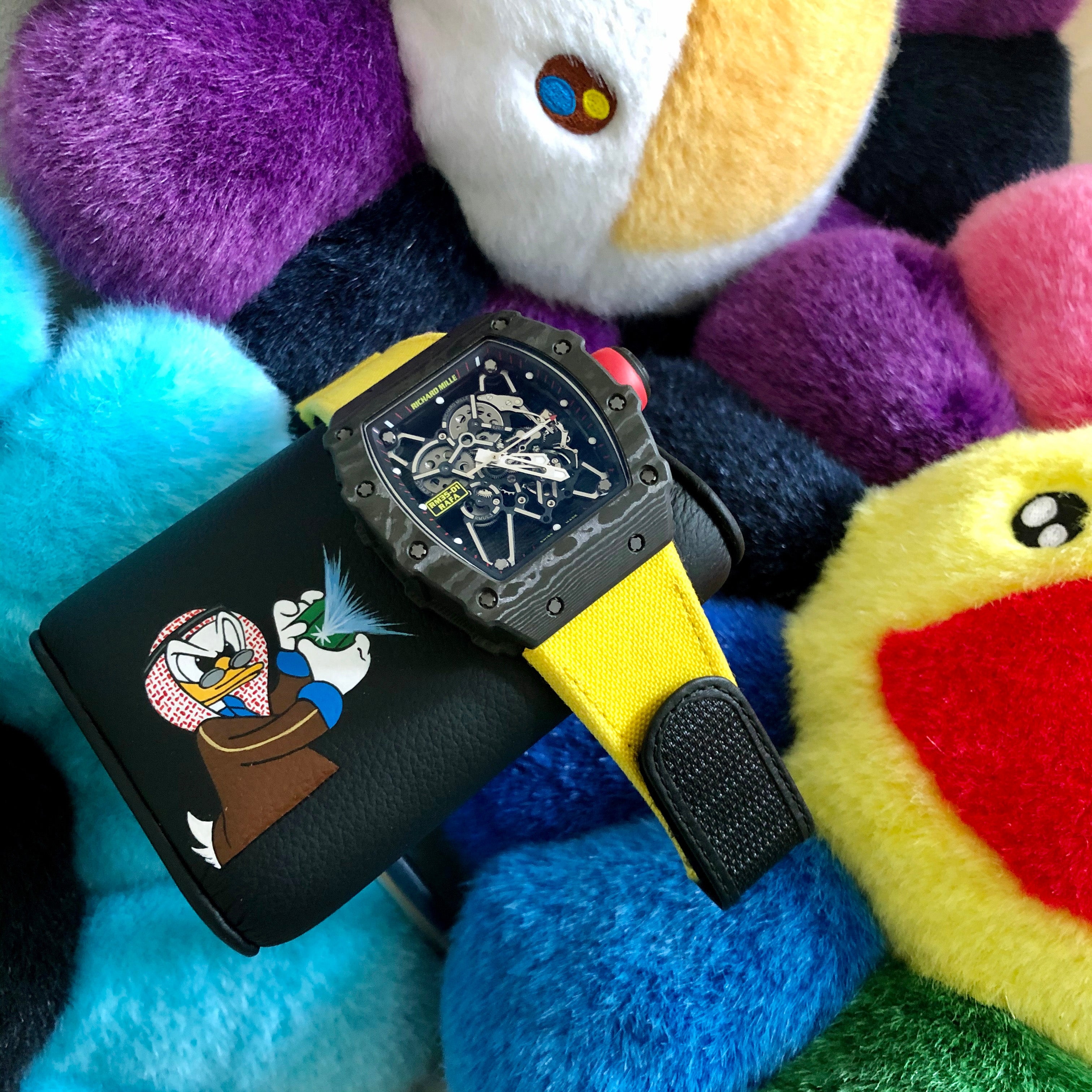 How did Richard Mille become so popular?
See our products, hand-painted by Maison Gris.
Slow to evolve
Every so often, significant changes occur within an industry. Whether it's a new product, a new service or a new competitor – industries evolve and adapt over time. The watchmaking industry is one such industry that has been very slow to deal with these changes throughout its history. When the Quartz Crisis occurred in the 1970s, and 1980s Swiss watchmaking was brought to its knees. It wasn't until the Swatch Group was set up that a consolidated effort against Japanese and Chinese manufacturers could be established. With this lethargic approach to evolving the industry, it is only natural that when a company enters the market with something completely new that it can either be a massive success or a total flop – given customers might not want something new, or they might. This is the story about Richard Mille and how what they did didn't just catch fire, it sparked a revolution that catapulted them to the top of the food chain.
Credit: Time and Watches
The history of Richard Mille
Founded in 1999, by Richard Mille and his business partner Dominique Guenat, Richard Mille burst onto the watchmaking scene in 2001 following three years of development on their tourbillon timepiece, the RM001. The RM001 was a revolutionary timepiece for several reasons. As well as being aesthetically and visually unique, the RM001 sought to turn the tourbillon from the extremely fragile complication it was into something that could exist inside of a sports watch, and take the harsh punishments of daily wear and tear. To demonstrate that he achieved this, Richard Mille famously threw his own RM001 onto the floor in front of his future retailers at the backstage of Baselworld. With the RM001's tourbillon continuing to work perfectly, it became the talk of the town. And with that, Richard Mille had just become a hit.
Credit: Richard Mille
The concept, the execution and what it meant
Richard Mille's original concept was for a brand to create watches in the same way an F1 team creates their car – without considering the price. F1 also inspired a lot of the technology, designs and pursuit of performance that Richard Mille is famous for today. Coupling their disregard for costs with their Formula 1 inspired technology, Richard Mille began to design watches that were way ahead of their time. Between their construction techniques, materials, movements, complications and more – Richard Mille became the brand that could create watches that nobody else could compete with. This formula worked as it meant Richard Mille could carve a particularly valuable niche for themselves within the world of super luxurious watchmaking.
Credit: Monochrome Watches
Their demand today
Having ruled their respective niche for almost 20 years now, it's no surprise that Richard Mille is one of the most exclusive brands in the world. While they can disregard price as a factor, they can't disregard the complexities of producing timepieces that are so unconventional and ahead of their time. This results in minimal production runs, meaning their watches are almost always sold before they are even made. With most things in life, we always want what we can't get, and the people who can afford Richard Mille watches aren't used to hearing "No". This mix of exclusivity, extreme prices and distinct aesthetics have created a perfect storm whereby Richard Mille watches are adored by the rich and famous as a status symbol, given they act as a beacon of wealth in the age of social media. Their high prices serve as a way to screen out the unworthy, and their limited production makes those that can afford a Richard Mille watch desire it even more.
Our watch stand from the classic collection.
Their merits 
While it is easy to judge Richard Mille as just another extremely expensive watch brand – that isn't all they are. They create watches that pioneer a lot of technologies and engineering concepts that boggle the mind. Between their extreme shock resistance, insanely lightweight materials and impressive horological feats given their young age – they deserve the adoration they receive amongst their fans. A Richard Mille is a lot more than just an expensive watch; it's a 'Racing machine on the wrist' - the wrist of someone with a lot of money, that likes their watches.

Credit: The Financial Times