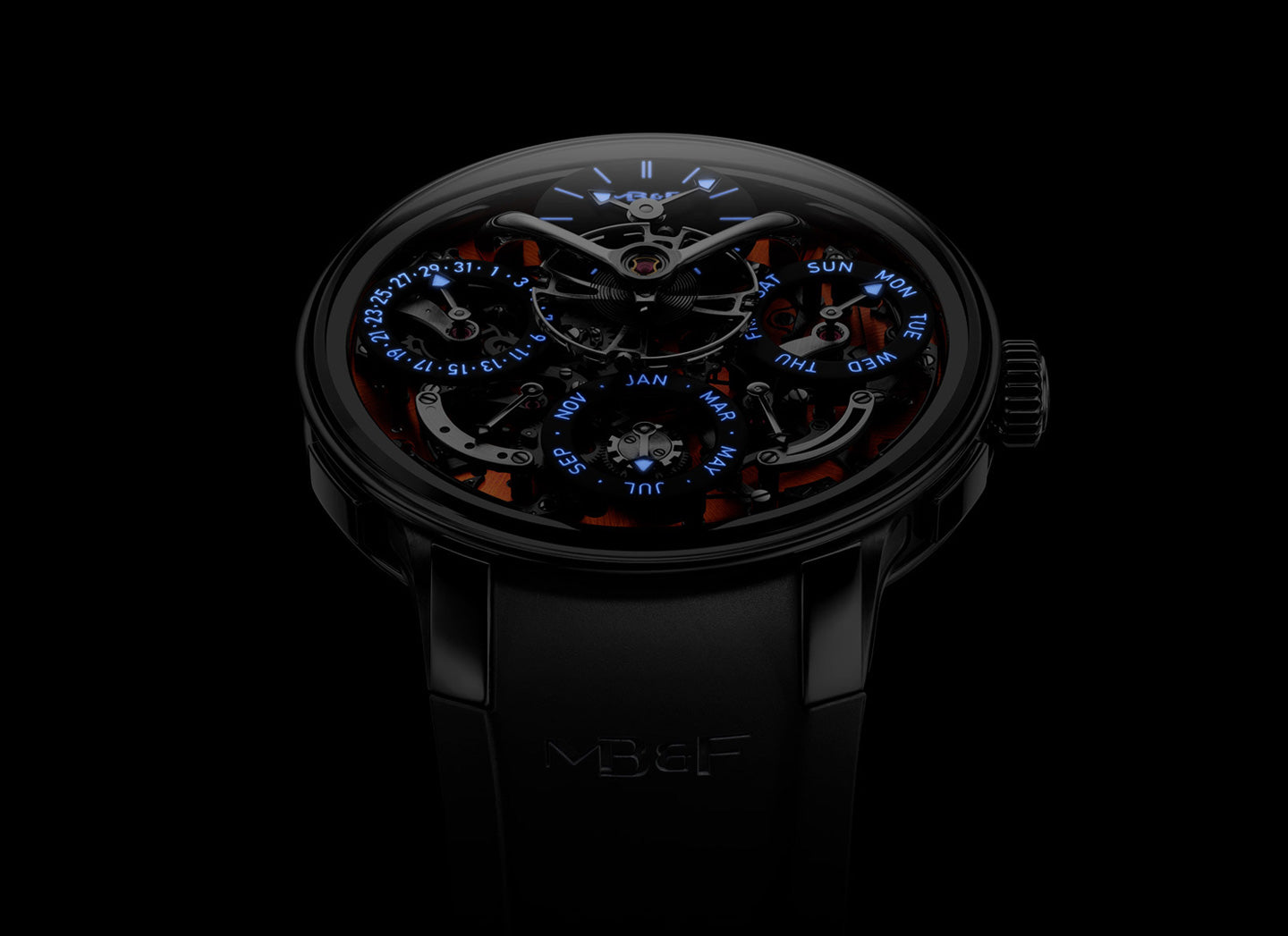 3 of 2020's Craziest Watch Releases So Far
An Arms Race but with Watches
- As the watch industry grows ever-more intertwined with the incredible power of technology, the horological creations that we get to appreciate become increasingly outlandish. While watchmaking is, at its core, a tradition-focused industry, the ability for watchmakers to break the boundaries are incredibly exciting. As brands continue to push the envelope and bring us novelties that we couldn't have even dreamt of only decades ago, the world of watchmaking is becoming that bit more exciting. With independent brands challenging the might of the established names, the competitive landscape is evolving at a rapid pace. Here are three watches that have been released this year that are a testament to that race and just how exciting the industry has become.
Jacob & Co. Astronomia Everest
- Love them or hate them, there is no denying that what Jacob & Co are doing is different. They have pretty much reinvented what a watch can look like, and they play by nobodies rules except for their own. One such collection of theirs that does this is the Astronomia collection. Debuted in 2014, the Astronomia instantly became one of the most out outrageously designed timepieces you could acquire. Retailing from a few hundred thousand into the millions, these rotating tourbillon housing, gem-set, marvels are a sight to behold, and just a few days ago Jacob & Co. decided to push the boundary for the collection once more.

- Partnering with Swedish explorer, environmentalist and mountaineer, Johan Ernst Nilson, Jacob & Co. has created a limited-edition Astronomia that houses a piece of Mount Everest within it. While that might be outlandish by itself, that's not nearly as out-there as Jacob & Co. can be. In addition to owning a piece of the legendary mountain, buying the Astronomia Everest buys you a helicopter ride with Nilson himself. This ride takes the buyer, and a guest with Nilson to the spot where the piece Everest within their watch was taken. The Astronomia Everest also houses two nods to Nilson's adventures to the North and South Pole in the form of two clear capsules, representing buckets Nilson used to collect water while exploring those two regions. Retailing for $884,800, with some of that going towards charity, the Astronomia Everest mightn't be the most expensive within the collection, but it is certainly not because of lack of character.
MB&F Legacy Machine Perpetual Evo
- MB&F are one of those brands, much like Jacob & Co., that play by their own rules. Founded in 2005 by Max Büsser, MB&F is an artistic concept laboratory that seeks to bring collectives of independent watchmaking professionals together in order to develop extreme watches, hence the "&F" in their name – Max Büsser & Friends. This simple mandate promises one thing - that the watches MB&F creates will be "extreme", and MB&F's Legacy Machines are certainly no less. Building upon the perpetual calendar that watchmaker Stephen McDonnel built for MB&F, the Perpetual Evo is the brand's first sports watch.
- While MB&F's creations have always been extreme-looking, to say the least, they have never been able to handle extreme conditions. In an Instagram Live, where he revealed this truth, Max Büsser confessed his frustrations towards not being able to wear his own watches to the beach, in water or even day-to-day. This is what motivated him to create the Perpetual Evo. Constructed of high-performance zirconium, water-resistant to 80m, fitted with a new 'FlexRing' shock-absorbing system and mounted on an integrated rubber strap, the Perpetual Evo combines "the smoothest wearing experience of any MB&F machine" with the designs aesthetics that have made MB&F as successful as they are today. Offered in three colourways, blue, black and orange, the Perpetual Evo retails for a cool 160,000 CHF and is still in stock in the blue colourway, should this beauty tickle your fancy.
Audemars Piguet Code 11.59 Selfwinding Flying Tourbillon Chronograph
- Released just one year ago in 2019, the AP Code 11.59 was perhaps one of the most negatively received collections within living memory. Lambasted by the watch community for what was thought of as an over-hyped release and frankly underwhelming designs, the Code 11.59 has left a bitter taste in the mouths of many watch fans. Never ones to succumb to a negative reception though, just like they didn't with the Royal Oak back in 1972, Audemars Piguet has been strengthening the Code 11.59 collection relentlessly with new complications, dial designs and material combinations. One of the newest additions to the collection has been the Selfwinding Flying Tourbillon Chronograph, and it does not disappoint.
- While a flying tourbillon chronograph is not a new complication to AP, having released a Royal Oak in 2003 with one, it is still an impressive feat of horological engineering all these years later. On top of the innovative cal. 2952 movement, this variant of the Code 11.59 features one of AP's most-famed design choices, a skeletonised dial. Pioneering the watchmaking skill in the '30s, skeletonising dials has been a speciality of AP ever since. With this Code 11.59, you get an incredibly unique looking watch, housing a complicated selfwinding flying tourbillon movement with a flyback chronograph functionality all within the most complex case AP has ever designed. Simply put, this watch is technically, aesthetically and functionally complicated and for that AP deserves kudos. While some brands might have sulked away with their tails between their legs, AP has shown the fortitude necessary to equip the Code 11.59 collection with the horological might that they saw fit. Limited to just 50 pieces and retailing for 240,000 CHF this is by no means an easy watch to buy, but one look at it will tell you this is definitely one of the craziest releases of the year, just like the two other watches mentioned.